A
Grasshopper
Soccer
Birthday
Party
scores
goals!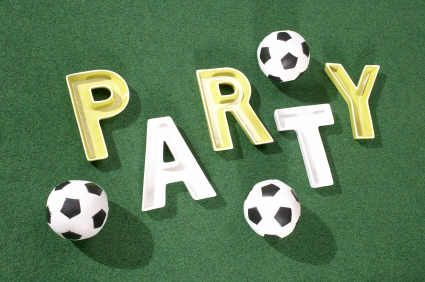 If you want to celebrate your child's birthday but don't want your house full of excitable kids, a Grasshopper Soccer Birthday Party is for you!
Our fantastic parties are filled with fun, learning and loads of games. You pick the location – it could be a nearby park, school oval or even your own backyard – and let your child and their friends experience an action-packed birthday party.
Your child's friends don't have to know how to play soccer, our birthday parties cater for all skill levels and every care is taken to ensure all participants have fun. Our experienced Coaches will make sure that each child has a turn playing games and kicking the ball, never letting any child feel left out.
We take the stress out of entertaining loads of kids, so you can sit back and enjoying watching your child celebrate their birthday party in the best possible manner! The memories made at a Grasshopper Soccer party will last forever.
Grasshopper Soccer will provide:
• Birthday invitations
• Equipment
• Games
• Giveaways (every child receives a gift)
• Coaches
• Lots of fun
The birthday child will also receive a very special birthday present from Grasshopper Soccer.
All you need to do is think about some snacks and refreshments for the hungry guests!
If a Grasshopper Soccer party sounds good to you, give us a call.
To make sure we bring the most fun to your child's party, please contact us a few weeks in advance so we can make the necessary arrangements and customise our package to your needs.